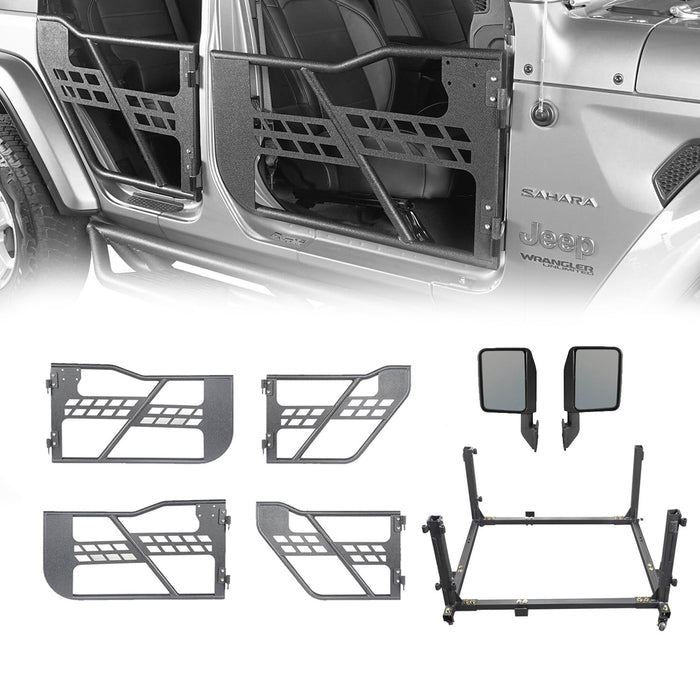 Tubular Door / Side Mirrors / Door Storage(18-24 Jeep Wrangler JL)-LandShaker
Like for Discount
* Friendly Reminder :

The Title, Description and Images of listing are for all Items of Whole Variant Types. The Item of Variant "TYPE" is what you will take and receive.
Double-check the Variant Type before selecting quick shop or add to cart to assure you receive the correct product(s)
Thanks for your kind cooperation ahead.*
Jeep Wrangler JL 4-Door Tubular Door Guards
Fits 2018-2024 Jeep Wrangler JL
Weight: About 68 lbs; Adventure Style Tube Doors; premium E-Coating Process for Corrosion Protection Under Normal Use; Pubular Durable Steel Construction
Offer Open-Air Ventilation for a True Off-Road Experience; textured Black Powder Coat Finish
Simple Installation
Package Included

1 x Jeep JL 4 Door Tube Doors(Driver & Passenger Side Included)
Mounting Hardware
Jeep Wrangler JL Door Rock Door Storage Movable Cart
Fits 2018-2023 Jeep Wrangler JL
Carbon steel alloy, resisting rust, textured wrinkle black powder coat finish, the frosted spray painting process; Designed to sit in the door bars, fit for 4 doors. Superb design stores top in a vertical position saving space around the garage or shop. Will not scratch or damage your doors.Rectangle design; Tough welded-steel construction.Particularly useful with the storage of doors. Wheels glide the top to any area of the garage or shop with one hand! Pulley removable design; Steel construction for sturdy quality that really lasts. Include four heavy-duty swivel caster wheels mounted to an all-steel tube frame
Easy assembly using common hand tools
Package Included:

1 x Rock Crawler Door Storage
Mounting Hardware
Easy Installation
Dimension
Jeep Wrangler JL 4-Door Tubular Door Guards
Jeep Wrangler JL Door Rock Door Storage Movable Cart
Details of this Door Storage
This door cart is simple and practical. Developed specifically for wrangler and it will fit perfectly and securely!