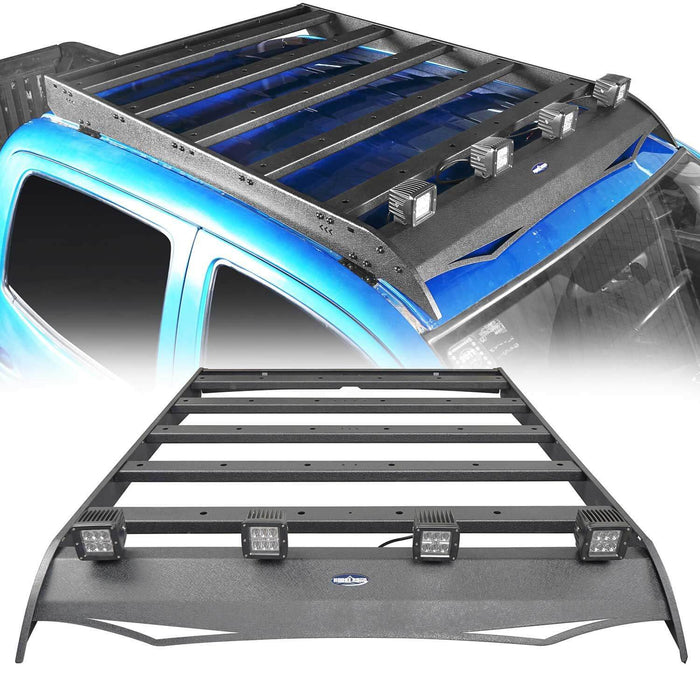 Roof Rack w/LED Lights Support Shark Fin Antenna(05-22 Toyota Tacoma 4 Doors Double Cab Gen 2/3)-LandShaker
Like for Discount
Name: Toyota Tacoma Roof Rack

Feature
Fits 2005-2022 Toyota Tacoma 4 Doors  Double Cab Models Gen 2/3; Please Choose the Correct Variant before you place the order
Carrying Capacity(Evenly Distributed) of Up to 330 Pounds
Measures: About 45" Width in Front End,42.3" Width in Rear End and 58.5" length
Weight: About 60 lbs
Textured Black Powder Coat Finish
Aerodynamic Style Complements Truck Exterior
Compatible with Rear Car Antenna
Provides Extra Exterior Cargo Space
Heavy-Duty, High Tensile Steel Construction
Moderate Bolt-on Installation
Package Included
1 x 4 Doors Toyota Tacoma Roof Rack
4 x 18W LED Lights
Mounting Hardware
Carrying Capacity
The roof rack can hold up to 330 Pounds. (Evenly Distributed)
Details of this Roof Rack
About 45-Inch Width in Front End,42.3-Inch Width in Rear End and 58.5-Inch Long.

The thickness of the metal on the edges is 3 mm.
You can choose to install the cross racks you want, the rack is detachable.

Excellent Extra Storage Space.
When extra cargo space is absolutely needed, you can rely on this Tacoma Roof Rack. It provides large space for all those extra gear you need to bring along in your next road trip or trail adventure. With its secure design, you can place your cargo on it with great confidence.
Durable Steel Construction.
This Toyota Tacoma roof rack is built from heavy-duty steel to ensure maximum durability against heavy loads. It is coated with a durable black powder coating to ensure lasting protection against corrosion.
E-Coating Process.
E-coat systems can deliver a wide range of lacquer and paint finishes with a combination of state-of-the art performance and decorative effects. The product percent of pass reaches 100% after the salt spray test.
Installation from Customer
Simple to install. When installing properly, it will not whistle. Please feel free to contact us if there is any issue when using the product.
A guide to wiring the lights: Hope it will help you.
Check youtube. Just tuck it in the driver's side mirror rubber flange from the roof. Use only two wires positive and negative and wrap the two wires with electrical tape so the wire bundle is small to be pushed under the rubber windshield flange.
You might need to drill some holes if a light bar is mounted on this rack.