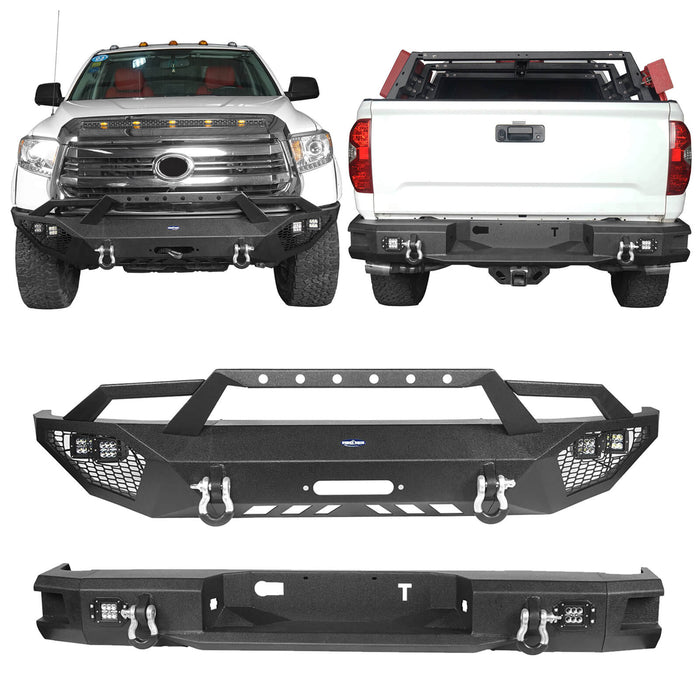 Full Width Front Bumper & Rear Bumper(14-21 Toyota Tundra)-LandShaker
Like for Discount
Name:  Toyota Tundra Full Width Front Bumper & Rear Bumper

Friendly Reminder:
Please Double-check All of the Item Pictures to Purchase What you Like.
Feature
Fits 2014-2021 Toyota Tundra Models
Weight: Front Bumper About 135 lbs; Rear Bumper About 95 lbs
Front Bumper Winch Plate for up to 12000 lbs
Front Bumper Not Compatible with Tundra Models Equipped with Blind Spot Monitoring System; Rear Bumper Not Compatible with Factory Back-Up Sensors
Front Bumper Stinger Hoop Design w/Powerful Style to Provide Superior Protection
Aggressive Design
Perfectly fits the body lines
Heavy-Duty, High Tensile Steel Construction;
Rugged Styling and Protection
9500 lbs Rated,3/4'' D-Rings Included
Textured Black Powder Coat Finish
D-Rings w/Rubber Rings to Provide Extra Protection Against Abrasion
Moderate Bolt-on Installation w/Clear and Detailed Instruction
2 Year Limited Manufacturer Warranty & Lifetime Customer Support
Toyota Tundra Front Bumper Package Included
1 x Toyota Tundra Full Width Front Bumper w/Winch Plate
2 x D-rings w/Rubber Rings
4 x 18W High Power LED Spotlights
Mounting Hardware
Toyota Tundra Rear Bumper Package Included

1 x Toyota Tundra Full Width Rear Bumper
2 x D-Rings
2 x 18w LED Spotlights
Mounting Brackets & Hardware
Aggressive Styling and Excellent Protection.
No matter what kind of obstacle you and your Toyota Tundra encounter off-road, you can easily fend them off with this heavy-duty front bumper. Its powerful rugged design gives your Tundra aggressive appearance.

Solid Construction. Designed for a bolt-on installation, this front bumper is CNC-cut, formed, and MIG/TIG-welded to perfectly fit on your Tundra. The provided stinger adds extra protection against forwarding impacts on steep terrain.
E-Coating Process.E-coat systems can deliver a wide range of lacquer and paint finishes with a combination of state-of-the-art performance and decorative effects. The product percent of pass reaches 100% after the salt spray test.
Installation.
Take out all the components of the bumper and assemble them in order carefully. Then insert the winch plate into the car frame and install it with original bolts. At last, connect the winch plate with assembled bumper to complete the installation. There is no cutting or modifications required for a clean straight forward installation. Installation can be completed in about 2 hours with just basic hand tools and the help of a friend.