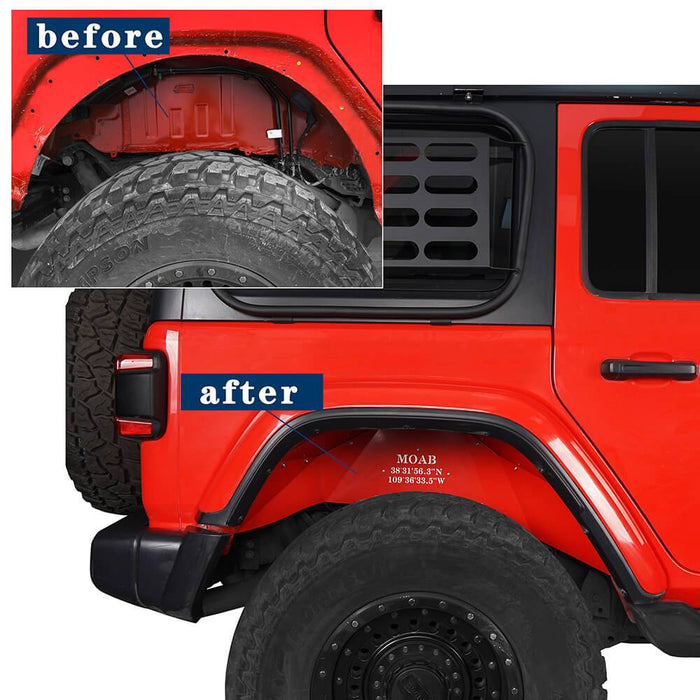 Rear Inner Fender Liners(18-22 Jeep Wrangler JL)-LandShaker
Like for Discount
Name: Jeep Wrangler JL Rear Inner Fender Liners

Fits 2018-2021 Jeep Wrangler JL Models
Weight: about 23 lbs
12 Gauge(7/64 inch) High Strength Steel Construction
Gravel and Muddy Water Fender
Vivid glossy red powder coat finish
Enhance the off-road temperament and show your enthusiasm
Decorated w/ MOAB character and the coordinate of latitude and longitude
Both Driver and Passenger Side Liners Included
Easy to Install
Package Included
1 x Jeep JL Rear Inner Fender Liners ( Driver & Passenger Side Included)
Mounting hardware
About this Rear Inner Fender Liners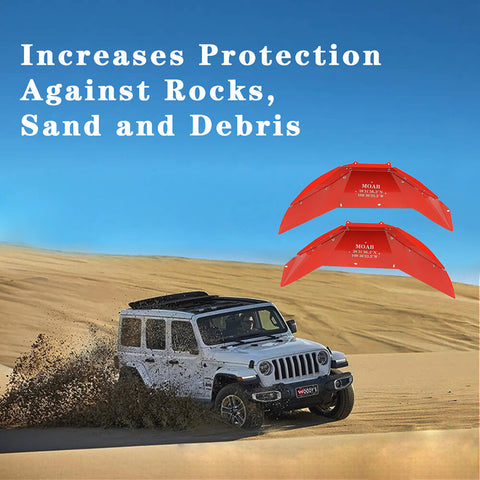 Easy Installation. These Inner Fender Liners are designed for a direct bolt-on installation. No drilling or trimming is needed for proper installation. Remove the original fender flares. Then place the inner fender liners and tighten up with supplied screws. The kit should take 60 minutes or less to get them down. Attempt to complete the operation in your garage and save you a pretty penny ranges from 100 to 500 dollars.
Excellent Protection and Stylish Look. If you're searching for a quick and easy way to improve your Jeep Wrangler JL's appearance, simply install Rear Inner Fender Kit. This high-quality fender kit is able to dramatically improve the look of your Jeep's rear wheel wells so that your Jeep easily stands out from the pack in the streets and on the trails. The solid construction of these inner fenders provides exceptional rear wheel protection from rocks, road debris, and other contaminants.
Solid Construction. These Rear Inner Fenders feature a solid steel construction that gives it exceptional durability ideal for rough off-road driving. A vivid glossy red powder coat finish is applied to give these inner fenders increased resistance to corrosion and rust.
SEMA Membership. We has been certified as a member of SEMA. We are studious and gradually grow up to be a professional aftermarket retailer. As a SEMA member, we make, buy, sell and use all kinds of specialty parts and accessories to make vehicles more attractive, more unique, more convenient, faster, safer, more fun and even like-new again. Wish you have a terrific off-road experience with our products