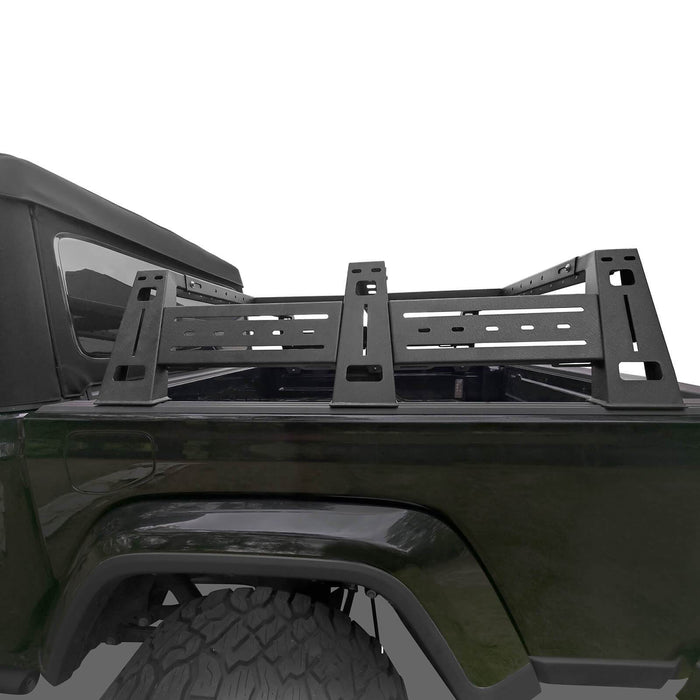 13 Inch High Bed Rack(20-23 Jeep Gladiator JT)-LandShaker
Like for Discount


Name:  13 Inch High Bed Rack for 2020-2023 Jeep Gladiator JT
Feature
Fits 2020-2023 Jeep Gladiator JT
Weight: About 75 lbs 
The Rack Sits 13 Inch from Bed Rail to Top of Rack
Mount Anything from Traction Boards, Hi-Lift, Fire Extinguisher, Quick-Fist, Roto-Pax, Roof Top Tent, Bike Mounts, etc
Equipped W/Mounting Accessory for Fixing A Spare Tire on the Top of the Rack
Rated Capacity (Evenly Distributed): 360 Lbs Dynamic, 720 lbs Static
Not Compatible for Trucks with a Tonneau Cover
Compatible with Models with Factory Trail Rail System and Models without Factory Trail Rail System. Can Bolt into Existing Factory Bed Rail System OR Clamp onto Bed Side.
Heavy-Duty, High Tensile 14-Gauge(5/64 Inch) Steel for the Structure Plate, 10-Gauge(9/64 Inch) for the Mounting Clamps
Textured Black Powder Coat Finish 
Simple Bolt-On Installation. No Drill Required. Shipped Disassembled, Easy to Put Together
Package Included:
1 x Jeep JT High Bed Rack
12 x Mounting Clamps
Mounting Hardware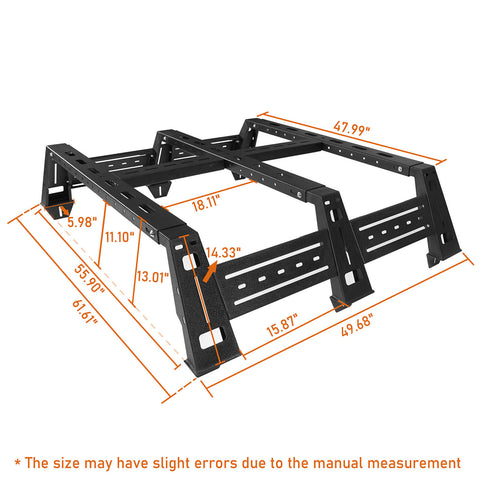 Expand Your Truck's Utility. When extra cargo space is absolutely needed, you can rely on this Jeep JT High Bed Rack. The bed rack allows you to mount and organize most adventure accessories. The Jeep JT Bed Rack offers a convenient place to mount a high lift jack, a spare tire, RotoPax Fuel Packs, and other items. Whether you are going on a camping trip or tackling the trails you can be sure that you will have enough room for all of your gear.


Solid Steel Construction. The Jeep JT High Bed Rack is built from heavy-duty steel to ensure maximum durability against heavy loads. The High Bed Rack is coated with a durable black powder coating to ensure lasting protection against corrosion.

E-Coating Process. E-coat systems can deliver a wide range of lacquer and paint finishes with a combination of state-of-the art performance and decorative effects. The product percent of pass reaches 100% after the salt spray test.

Bolt-on Installation. Designed for a simple and hassle-free installation, this Jeep JT High Bed Rack installs perfectly well into the truck's bed panels. Requires no drilling or modifications and can be installed easily with one or two people. Place the components in the truck bed and assemble them in order with supplied bolts. Then bolt into the existing factory bed rail or clamp onto bed side. Just need some basic hand tools. The installation will only take roughly 1.5-2 hours.

SEMA Membership. Our brand has been certified as a member of SEMA. We are studious and gradually grow up to be a professional aftermarket retailer.As a SEMA member, we make, buy, sell and use all kinds of specialty parts and accessories to make vehicles more attractive, more unique, more convenient, faster, safer, more fun and even like-new again. Wish you have a terrific off-road experience with our products.