Full Width Front Bumper / Rear Bumper / Roof Rack(07-13 Toyota Tundra Crewmax )-LandShaker
Like for Discount
Name: Toyota Tundra Full Width Front Bumper / Rear Bumper / Roof Rack
* Friendly Reminder :

The Title, Description and Images of listing are for all Items of  Whole Variant Types. The Item of Variant "TYPE" is what you will take and receive.
Double-check the Variant Type before selecting quick shop or add to cart to assure you receive the correct product(s)"
Please Double-check All of the Item Pictures to Purchase What you Like.
Full-Width Front Bumper
Fits 2007-2013 Toyota Tundra Crewmax Models
Bumper weight: about 105 lbs; Perfect fit body lines; Heavy-duty, high tensile 11-gauge(1/8 Inch) steel for the bumper main body, 7-gauge(3/16 Inch) for the parts of the mounting bracket; Textured black powder coat finish; High strength D-Ring mounts welded both inside and out with 4.75-ton capacity. 9500 lbs rated,3/4'' D-rings included; Includes a skid plate provides undercarriage protection; Equipped with a 120w high power LED flood spot combo light bar(22 inches) and 2 LED spotlights; Not Compatible with Factory Sensors
Easy bolt-on installation
Package Included

1 x Full-Width Front Bumper
2 x Mounting Brackets
1 x Skid Plate
1 x 120w High Power LED Lights
2 x D-Rings
2 x 18w LED Spotlights
Mounting Hardware
Toyota Tundra Full Width Rear Bumper
Fits 2007-2013 Toyota Tundra Crewmax Models
Bumper Weight: About 92 lbs;3/4" D-Rings, 9500 lbs Rated; D-Rings w/ Rubber Isolators against Abrasion; Retains Factory Hitch Receiver; Not Compatible with Factory Back-Up Sensors; Heavy-Duty, High Tensile 10-Gauge(9/64 Inch) Steel for the Bumper Main Body, 8-Gauge(11/64 Inch) for Mounting Bracket Plate; Impressive Rear-End Protection; Integrated Steps for Easier Access;Textured Black Powder Coat Finish
Easy Bolt-On Installation
Package Included

1 x Tundra Rear Bumper w/ Hitch Receiver & License Plate Mounting Plane
2 x LED Floodlights
2 x D-Rings
Mounting Hardware
Tundra Crewmax Roof Rack
Fits 2007-2013 Toyota Tundra Crewmax models
Roof Rack Weight: About 72 lbs; High Tensile Maximum 11 Gauge(1/8 Inch) & Maximum 16 Gauge (1/16 Inch) Steel Construction; Carrying Capacity(Evenly Distributed) of up to 330 Pounds; Outer Dimension: About 61.1-Inch Length, 51.9-Inch Width, and 6.1-Inch High; Right for Your Vehicle and Lifestyle. Provides Extra Exterior Cargo Space; Aerodynamic Style Complements the Truck Exterior; Textured Black Powder Coat Finish
Drilling Needed, Moderate Bolt-on Installation Requires Some Drilling(Tools Required: Drill w/ 9.2-9.5mm Drill Bit & Riveting Nut Gun w/ Metric M6 Rivet Nut)
Package Included

1 x Tundra Roof Rack(4 x Square LED Spotlights Not Included)
4 x Single Row LED Floodlights
Mounting Hardware

Fitment
Fit for 2007, 2008, 2009, 2010, 2011, 2012, 2013 Toyota Tundra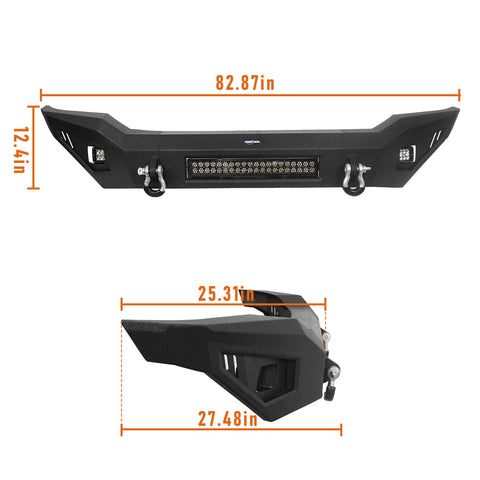 ?