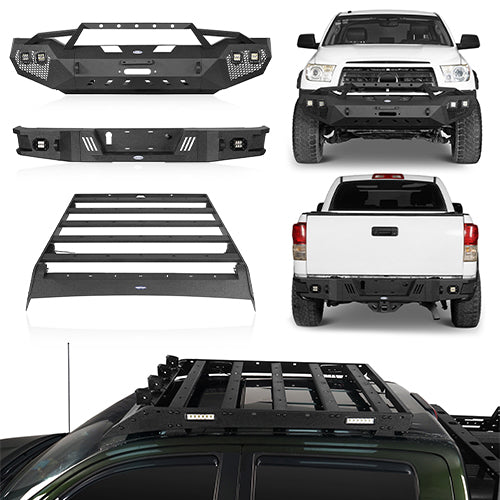 Front Bumper / Rear Bumper / Roof Rack(07-13 Toyota Tundra Crewmax)-LandShaker
Like for Discount
Name: Full Width Front Bumper / Rear Bumper / Roof Rack

* Friendly Reminder :

The Title, Description and Images of listing are for all Items of  Whole Variant Types. The Item of Variant "TYPE" is what you will take and receive.
Double-check the Variant Type before selecting quick shop or add to cart to assure you receive the correct product(s)"
Please Double-check All of the Item Pictures to Purchase What you Like.
Thanks ahead.
2007-2013 Toyota Tundra Full Width Front Bumper with Hoop
Fits 2007-2013 Toyota Tundra 
Crewmax
 Models
Bumper weight: about 115 lbs; Audacious, angular off-road design with hoop; Protects vehicles from on & off-road debris; Delicate hollowed-out honeycomb design in both sides; Comes with a 12000-pound capacity winch plate; Not Compatible with Factory Sensors; Heavy-duty steel construction: 11-gauge(1/8 inch) plate for the bumper main body, 10-gauge(9/64 inch) steel plate for the winch plate; High strength D-Ring mounts welded both inside and out with 4.75-ton capacity. D-rings not included; Two-stage Finish: Textured black powder-coated finish
Easy bolt-on installation
Package Included
1 × Front Bumper Assembly
1 × Structure Mounting Bracket(Winch Plate)
1 × License Mounting Bracket
4 × LED Spotlights
1 × Solid Skid Plate
1 × Mounting Hardware Kit
1 × Installation Instruction
2007-2013 Toyota Tundra Full Width Rear Bumper
Fits 2007-2013 Toyota Tundra 
Crewmax
 Models
Bumper weight: about 58 lbs
3-piece modular design
Heavy-duty, high tensile 11-gauge(1/8 inch) steel for the bumper main body
Works with factory receiver hitch
Includes a license plate light and 2×18w LED floodlights
License plate placing plane and mounting holes included
Pre-cutout for trailer connector
Not compatible with factory back-up sensors
Integrated center and side steps for convenient access to truck bed
Textured black powder coat finish & Premium E-coating process inside
Rugged styling and protection
Simple bolt-on installation
No drilling or cutting is required
Package Included
Rear Bumper Assembly
2 × Mounting brackets
License Plate Light
2 × LED Floodlights
Mounting Hardware Kit
Installation Instruction
2007-2013 Tundra Crewmax Roof Rack
Fits 2007-2013 Toyota Tundra Crewmax models
Roof Rack Weight: About 72 lbs; High Tensile Maximum 11 Gauge(1/8 Inch) & Maximum 16 Gauge (1/16 Inch) Steel Construction;Carrying Capacity(Evenly Distributed) of up to 330 Pounds; Outer Dimension: About 61.1-Inch Length, 51.9-Inch Width, and 6.1-Inch High; Right for Your Vehicle and Lifestyle. Provides Extra Exterior Cargo Space; Aerodynamic Style Complements the Truck Exterior; Textured Black Powder Coat Finish;
Drilling Needed, Moderate Bolt-on Installation Requires Some Drilling(Tools Required: Drill w/ 9.2-9.5mm Drill Bit & Riveting Nut Gun w/ Metric M6 Rivet Nut)
Package Included
1 x Tundra Roof Rack(4 x Square LED Spotlights Not Included)
4 x Single Row LED Floodlights
Mounting Hardware
Dimension
Manual Measure. It is a little bit different. Just for Reference Only.